Material WP – Material Design Dashboard Theme
WordPress admin interface has been the same for ages. The version 3.8 of our beloved platform tried to bring a fresher design, but the basic idea remained the same. It's time to bring something entirely new to the table: Material WP.
Every wonder how a Material Design version of the admin interface would look like? You now can get that look and feel right in your admin panel. Check the demo and the screenshots!
Features:
Completely redesign of the admin interface,based on Material Design
Drag and Drop admin menu Reorder
Responsiveness
Parallax Block
Login Page Styles
Important
As not every WordPress plugin developer follows the WordPress guidelines on how to implement WordPress custom Admin Pages, some plugin's admin pages may present weird pages using this theme. But fear not: just send us a message via our profile and we will do our best to add the plugin to our compatibility list. All the most commonly used plugins are already compatible, like VC, WooCommerce, bbPress, BuddyPress, Jetpack, etc
What are our buyers saying?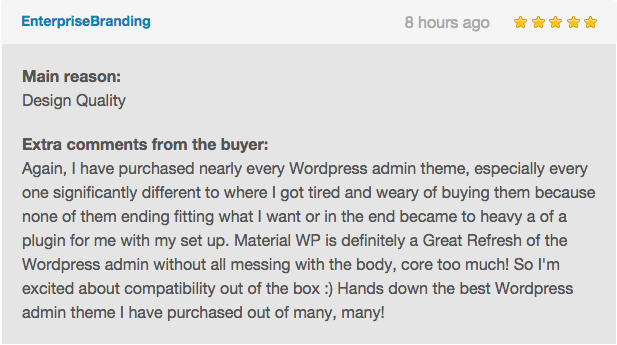 Our Items
Changelog
 Version 0.0.2 - Only loads styes in frontend when logged (wpadminbar is shown). - Removed some extra CSS enqueued to the front-end that could cause conflicts with front-end themes. - Custom logo src url fix. - Fix in some custom icons not showing up. 
 Version 0.0.1 - Initial Release on CodeCanyon.