This Visual Composer Addon – HTML5 video player comes in two versions: Right Side playlist and Bottom Playlist. It plays .MP4 and .WEBM video files

Installation – https://www.youtube.com/watch?v=Qg9PdLXTLVg
How To Use The Add-On– https://www.youtube.com/watch?v=gQF88Nh22gY
FEATURES:

RESPONSIVE DESIGN
The video player if fully responsive. Parameter to enable or disable responsive behavior.

RIGHT SIDE & BOTTOM PLAYLIST VERSIONS
The video player comes in two versions: Right Side playlist and Bottom Playlist.

MULTIPLE SKINS INCLUDED
You can choose from 5 skins for each player. To choose the skin just set "skin" parameter.
Ex: skin: universalBlack

MULTIPLE INSTANCES
You can insert the player multiple times in the same page with the same skin or using a different skin.

FULLSCREEN
It supports full screen, having all the controllers usable in full screen mode, including playlist.

AUTOHIDE FOR CONTROLLERS
The controllers will auto hide on mouse out, showing the entire movie

PREVIEW IMAGE
A preview image can be defined for each movie

PLAYLIST IMAGE
A playlist image can be defined for each movie

VOLUME CONTROL
You have a complete sound control. You can also set the initial volume

DESCRIPTION FOR VIDEO
You can set a Title and Description for the video. Supports HTML & CSS formated text.

CLICK LISTENER
You can also click on the video to play/pause the video.

MULTIPLE PARAMETERS AVAILABLE:
– width
– height
– playlist width
– border width & color
– autoplay
– loop
– volume
… and more

LIGHTWEIGHT
The JS has around 38KB

HELP FILE
A complete help file is included
Our other Visual Composer Add-Ons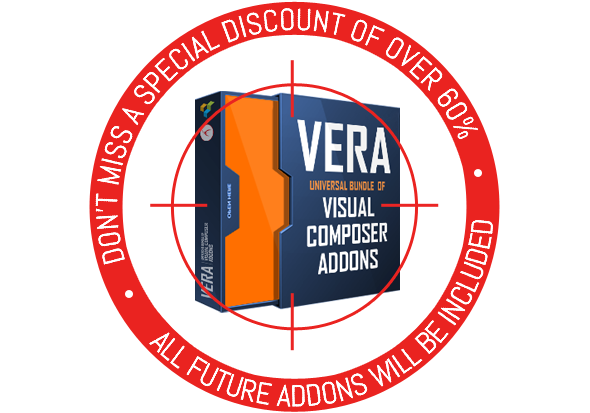 Keywords: html5, html5 video player, html5 player, wordpress, wordpress plugin, visual composer, vc addons, vc addon, responsive, video player, playlist, mobile, ios, jquery, skins
If you need additional information don't hesitate to contact us at [email protected]. We'll try to answer you as quickly as possible.
Enjoy!
UPDATES / RELEASE LOG
 ***Version 1.0 Release Date: September 2, 2015