Crowdfunding With WordPress
Fundify is the first WordPress theme that lets you create your own crowdfunding website. If you have wanted a site like KickStarter or Indiegogo for your own projects, now you can have one using Fundify, the crowdfunding theme for WordPress.
Raise Money For Things You Care About
Raising money has never been easier. Tell people what you are doing and inspire them to contribute to your campaign. Offer creative rewards and perks for your backers. You can publish your own campaigns or build a community where people can submit campaigns to your site. Submitted campaigns will be "pending" until approved by the site administrator.
How It Works
Create a campaign: Set a goal amount, a target date, and inspire people to contribute to your cause.
Backer Rewards: Setup prizes and perks for your backers based on the amount of their contribution.
Fixed and Flexible Campaigns: A fixed campaign will only collect funds if you meet your target goal. For projects where any amount of money raised is helpful, run a flexible campaign and collect the contributions even if you don't meet the target goal amount.
Recognition and Interaction
Give credit to those who contribute to your campaign by listing the names of your backers. The comments feature in WordPress allows the backers to interact with the campaign authors.
Responsive Design and Up To Date Features
Fundify is not just an amazing WordPress theme for crowdfunding, it is a complete WordPress theme for business and blogging too! Fundify is coded with a responsive design which means it will look great no matter how you view the site. This makes your campaigns and your blog easily accessible to mobile devices, tablets, and desktops alike. Complete with responsive page templates for a contact page, full-width pages, archive pages, and more. Fundify is up to date with support for the latest WordPress features including the WordPress theme customizer introduced in WordPress 3.4. The theme customizer lets the site admin try out various theme options before applying them to the live site.
Integration
Fundify seamlessly integrates with Easy Digital Downloads for collecting your contributions. Use the WePay Payment Gateway or PayPal Adaptive Payments Gateway and only collect the pledged contributions if your goal is met. Otherwise, contributions will be collected when they are pledged. Contributions can be split between the campaign author and the site admin.
Important Notes
Note: You can use any gateway you wish that is compatible with Easy Digital Downloads such as the free PayPal Standard gateway that is included with the plugin, just be advised that if you use a gateway that doesn't support pre-approved payments your customers will be charged instantly instead of when the campaign ends/reaches its goal.
Check This Out!
Our plugin is free! Feel free to download it and check it out. The Fundify theme (what you are viewing) integrates with our plugin and outputs the information in a nice looking way.
Fundify Theme & Plugin Features
Front End Campaign Submission Form
Embeddable Project Widget, Helps Gain Exposure For Your Campaign, Embed Anywhere On The Web.
Split Payments Between Site Admin & Campaign Author (Using PayPal Adaptive Payments)
Support For PayPal Standard Payments (Free Plugin)
Supports Both Fixed Campaign Style & Flexible Campaign Style
Custom Integration for WePay Pre-Approved Billing Gateway (Paid Plugin)
Custom Integration for Stripe Pre-Approved Billing Gateway (Paid Plugin)
Custom Integration for PayPal Adaptive Payments Gateway (Paid Plugin)
XML Dummy Content Included For Easy Setup
Responsive Design (Optimized for iPad and iPhone)
Full Localisation Support (contains .po/.mo files)
Full Design Customization i.e. Logo, Background, Text Colours See Here
4+ Custom Widgets
WordPress 3.9+ Ready (Menus & Featured Images)
Page Templates (Home, Archives, Full Width, Contact Form, Login Form)
Built on the _s Theme Framework
Compatible With Our Free Crowdfunding Plugin
Extensive Documentation
Supports 20+ Payment Gateways i.e. Stripe, Google Checkout, etc (From EasyDigitalDownloads.com)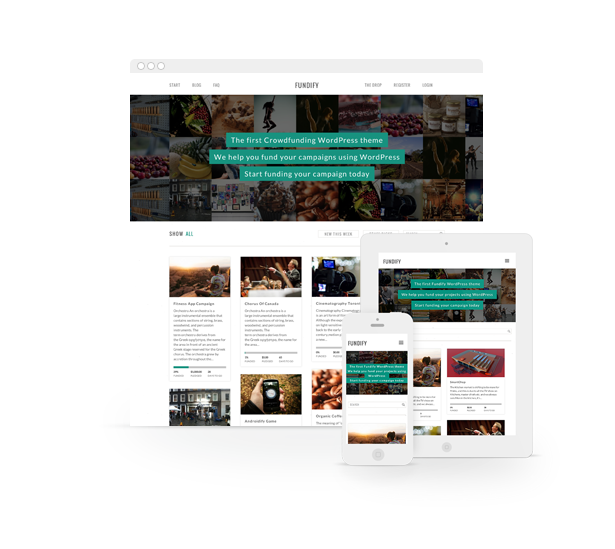 Theme Documentation & Change Log
This theme comes with extensive documentation which makes setup a breeze. The latest updates and bug fixes for this theme can be seen below and inside the theme files in a file called "changelog.txt"
1.7.1: October 13, 2013 =
Fix: Style tweeks for Easy Digital Downloads 1.8
1.7: September 14, 2013 =
Fix: Some tweaks for the new ribbons.
Fix: Mobile menu alignment, and other menu alignment tweaks.
Fix: Various other tweaks/improvements to keep up with Crowdfunding plugin.
= 1.6: August 27, 2013 =
New: Support for anonymous backers.
New: Add ribbons for certain campaign stages.
Fix: New this Week pulls latest. Week was not working on many hosts.
Fix: Other various tweaks and improvements.
= 1.5: August 12, 2013 =
New: Major: Custom pledging functionality has been removed from the theme, and added to the Crowdfunding by Astoundify plugin. Please make sure you are using the latest version of the theme and plugin (and update the theme first!)
New: Can replace hero unit with a Revolution Slider shortcode.
Fix: Better support for campaigns with no end date.
Fix: Various other tweaks/improvements to keep up with Crowdfunding plugin.
= 1.4.3: July 22, 2013 =
New: Support for WePay for splitting of funds when using our free WePay oAuth 2.0 plugin.
New: Style support for selecting multiple categories.
New: Style support for donation-only campaign types.
New: Themes can define support for tags and categories (they will not show if no support is declared)
New: Ability to select multiple categories.
New: Less strict payment processing. Allow for continuous reprocessing until all current payments are published.
New: Ability to filter columns of exported data.
New: Reinstate campaigns to allow for new funds to be pledged.
New: Ability to have just custom pledge amounts, and no rewards.
Fix: Suppress errors if EDD is not activated.
Fix: Better media permissions. Allow all users to upload, and only view their uploads.
Fix: Don't empty the cart to avoid the "empty cart bug", and allow for multiple pledges.
Tweaks: Update language files, various other fixes
= 1.4.2: July 22, 2013 =
Fix: Pledge button styling for EDD 1.7.
Fix: Campaign tab behavior for Firefox 21+.
Fix: Shareable widget now pops up correctly.
Fix: A few style tweaks.
= 1.4.1: July 5, 2013 =
New: Show contributions in user dashboard shortcode.
New: Add the option to fund forever (no end date).
New: Countdown will show "Hours to Go" on the last day.
New: Custom pledge amounts can be turned off. You will need to manually toggle back on to add support back.
New: Use Magnific Popup instead of Fancybox due to licensing.
Fix: Better redirection after login.
Fix: Show draft campaigns in user dashboard shortcode.
Fix: Better editing/saving of campaigns. Avoid losing data.
Fix: Alert the user if their username is already in use.
Fix: Consistency between terms. Use "Campaign" instead of "Projects"
Fix: Don't stretch single images in Firefox
Fix: Fix contact page template responsive functionality.
Fix: Empty search strings now direct back to the search page.
Fix: Better menu support on mobile.
Fix: Better support for different currency symbols when pledging custom amounts.
Fix: Allow longer titles to expand when in mobile.
Fix: Make sure the menu reappears after resizing.
= 1.3.1: June 7, 2013 =
New: Don't try to load responsive CSS in child theme. Child themes can deregister if needed.
Fix: Don't try to load pledges that no longer exist, to avoid breaking page.
Fix: Custom pledge amounts now more compatible with different currency separators.
Fix: Responsive scrolling menu fixes.
Fix: Single image fix on homepage for Firefox.
Tweaks: Other various tweaks/improvements.
= 1.3: June 1, 2013 =
Note: This is a large update to the theme's codebase, as well as visual styles. The new features and functionality require version 1.3 or higher of the Crowdfunding by Astoundify plugin.
Please make sure you make backups of your database, theme, etc.
New: Style upgrades. Set base font as "Lato" and improve visual cues throughout the theme.
New: Custom pledge amounts.
New: Login/Register/Pledge popup modals.
New: Sharable widgets and embed code.
New: Toggle responsive design on/off.
Fix: Complete rewrite of responsive functionality.
Fix: Complete Rewrite of all Javascript.
Fix: Facebook share button now includes proper prefilled data.
Fix: String improvements and updates.
Note: Removal of jQuery Isotope filtering do to poor usability. Create a "New This Week" and "Staff Picks" page and assign respective templates to restore functionality.
= 1.2: May 10, 2013 =
New: Display the number of campaigns on author bio.
Fix: Don't mess up JetPack share icons.
Fix: Display correct text when flexible funding is used on single campaign.
Fix: Update text strings.
Fix: Fix search results.
Fix: Add sub sub navigation support.
Fix: Fix: Fix search icon for Firefox (again)
= 1.1.1: April 22, 2013 =
New: Comments/Updates/Backers/Contact are now separated into separate pages (loaded via tabs) to reduce page size.
New: Ability to require authentication (registration/login) before submitting a campaign.
New: Login and Register shortcodes can be placed on any page.
Fix: Comment CSS styling fixes.
Fix: Menu fixes for IE 8.
Fix: Search icon fix for Firefox
Fix: Don't show collect funds button once they have already been collected.
Fix: Limit cart to one pledge per checkout to avoid errors.
Fix: Show all qualified campaigns on Export CSV section.
Fix: Don't limit the number of backers to 20 (in terms of count, output, etc).
Fix: Extra hooks in profile shortcode for better themeability.
Fix: Update language of "Fixed vs Flexible" to "All-or-nothing vs Flexible" as well as better descriptors.
Fix: Add Terms & Conditions to submission shortcode if they exist on EDD.
Fix: Use display name on profile instead of nicename to avoid breaking author archive permalinks.
Fix: Logged in users can now upload media when adding a campaign via the front-end.
= 1.1: April 8, 2013 =
New: Category archives for campaigns now appear as a grid.
New: Better display of campaign author biography information.
New: Campaign contributors profile pages list their info and campaigns.
New: Sharing options on campaign page.
New: Set a limit on number of times a pledge amount can be purchased.
New: Separate area for adding updates to a campaign during it's running.
New: Site administrators can choose which funding types are available.
New: Shipping becomes optional. Can toggle when submitting via front-end/backend.
New: More social fields in profile on campaign page, and author page.
New: Can set minimum and maximum campaign length in settings.
Fix: Properly set category when using the front-end submission form.
Fix: Display more relevant notes on inactive campaigns (depending on funding type).
Fix: Accent color in Theme Customizer now affects more items.
Fix: More consistent date formatting within campaign pages.
Fix: Don't show weird things on search page.
= 1.0.4: April 1, 2013 =
Happy April Fools!
New: Allow child themes to use their CSS.
New: Added styling for the new campaign author profile shortcode.
New: [appthemer_crowdfunding_profile] Shortcode to allow users to edit their profile, and see their campaigns.
New: Users can submit multiple campaigns without creating multiple accounts.
New: Export campaign data of completed campaigns.
New: Request payout of campaign.
Fix: Sidebar styling fixes.
Fix: Only show the users campaigns using profile shortcode.
= 1.0.3: March 25, 2013 =
New: Funding types—Fixed (default) or flexible funding. Allow a higher commission to be set on flexible funding.
New: Settings to specify the page that contains the front-end submission shortcode, as well as an FAQ page.
New: Use grid on search page
Fix: Some more backward compatibility stuff for DateTime functionality on hosts running PHP < 5.3.
Fix: Responsive Fixes.
Fix: Other CSS tweaks.
= Version: 1.0.2: March 18, 2013 =
New: Campaign owners can now edit their campaigns.
New: Contact author directly from the campaign page.
New: New template single-campaign-edit.php to edit campaign.
New: Filter by Featured/Staff picks on archives.
Fix: Better handle flex header sizes.
Fix: Include all strings in .pot file for translation.
= 1.0.1: March 14, 2013 =
New: If not crowdfunding, allow the front page template to load blog posts instead.
= 1.0: March 12, 2013 =
Demo Photo Credits:
See list here.