Symmetric is a well structured magazine theme for Ghost. It is focused in the content and extend main Ghost funcionalities so the user get a unique web experiencie in this platform.
Support:
We offer direct help via our support system, just submit a ticket if you have any question.

What our customers says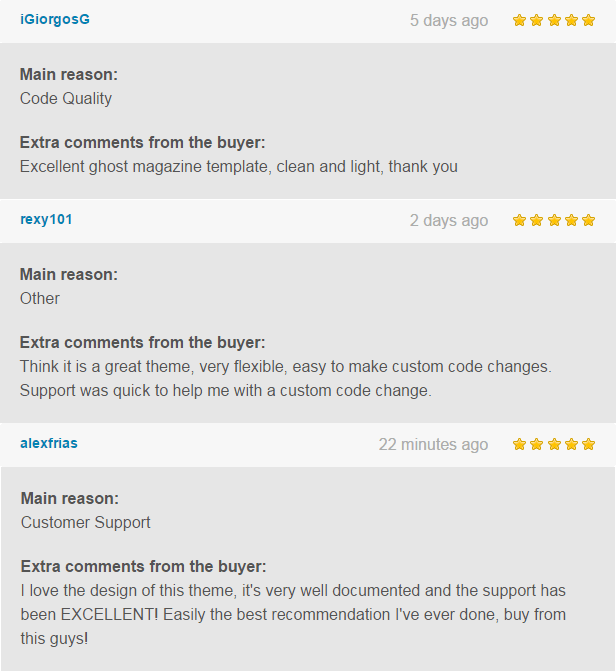 Features
Constantly updated.
Editorial style.
HTML5 & CSS3 ready.
Ghost 0.7.x compatible.
PSD logo included.
Featured Articles carousel.
Featured sidebar (with 2 main categories).
Recent tweets widget.
2 Single post dispositions
Custom Tag page, see here.
Custom Author page, see here.
Custom 404 Page see here.
Blog background cover support.
Search Widget.
Gallery Support, similar to a WordPress Shortcode.
Native Google Maps v3 Integration, similar to a WordPress Shortcode.
Optimized advertising sections.
Disqus Support.
Syntax Highlighter.
Fully responsive.
Video Support (Vimeo, Youtube, etc).
Retina Display Ready.
Font Awesome icons.
Works on Android, Ipad and Iphone.
Documentation included.
Clean Design.
Well Coded.
Navigation Menu.
Changelog
 v1.4 - 31 October 2015  -- ----------------------  - Updated to latest disqus integration code. - Added comments icon when single standard view is displayed.  v1.3.1 - 27 October 2015  ------------------------  - Improved: now facebook widget is displayed in English by default.  v1.3 - 24 October 2015  ------------------------  - Fixed: latest tweets widget (now works in a diferent way so check the documentation).  v1.2 - 22 October 2015  ------------------------  - Fixed: menu links overlapping on mobile devices. - Improved: single post share buttons disposition on mobile devices.  v1.1 - 13 October 2015  ------------------------  - Added: flickr widget (config file was updated too). - Added share buttons on articles. - Minor fix: Removed search box animation from sticky menu to optimize menu max width. - Minor fix: footer logo title now is white when no image logo is uploaded. - Changed Gallery shortcode animation. - Improved main-color.css file so now the user have more control over the design. - Improved menu disposition on tablet devices and small desktops. - Improved author page disposition when no cover image is uploaded. - Improved advertising banners. - Documentation updated.
Credits
Images by: unsplash
Fonts:
Fonts icons by: Fonts Awesome