Introducing RepairPress, the best premium WordPress theme for mobile phone repair shops, smartphone repair shops, laptop repairers, computer repair companies, camera repairers, tablet repair shops, and other digital or technology product repairers. RepairPress is incredibly easy to set up and use. It pulls all the pieces together to help you create a tidy website so you can focus on what's most important – your customers. RepairPress is only available here on ThemeForest, so keep reading to find out more about why it's perfect for your business' WordPress website!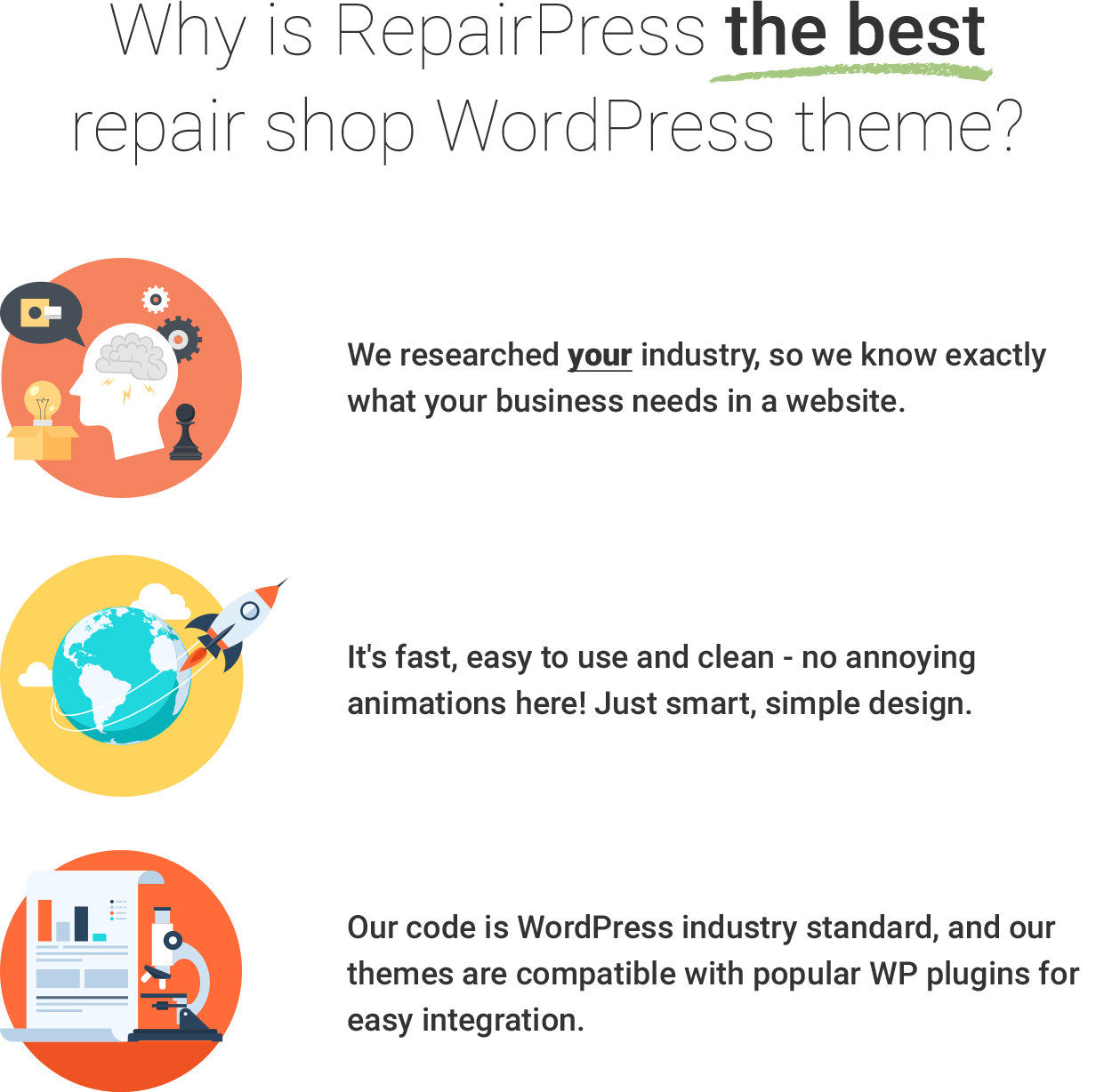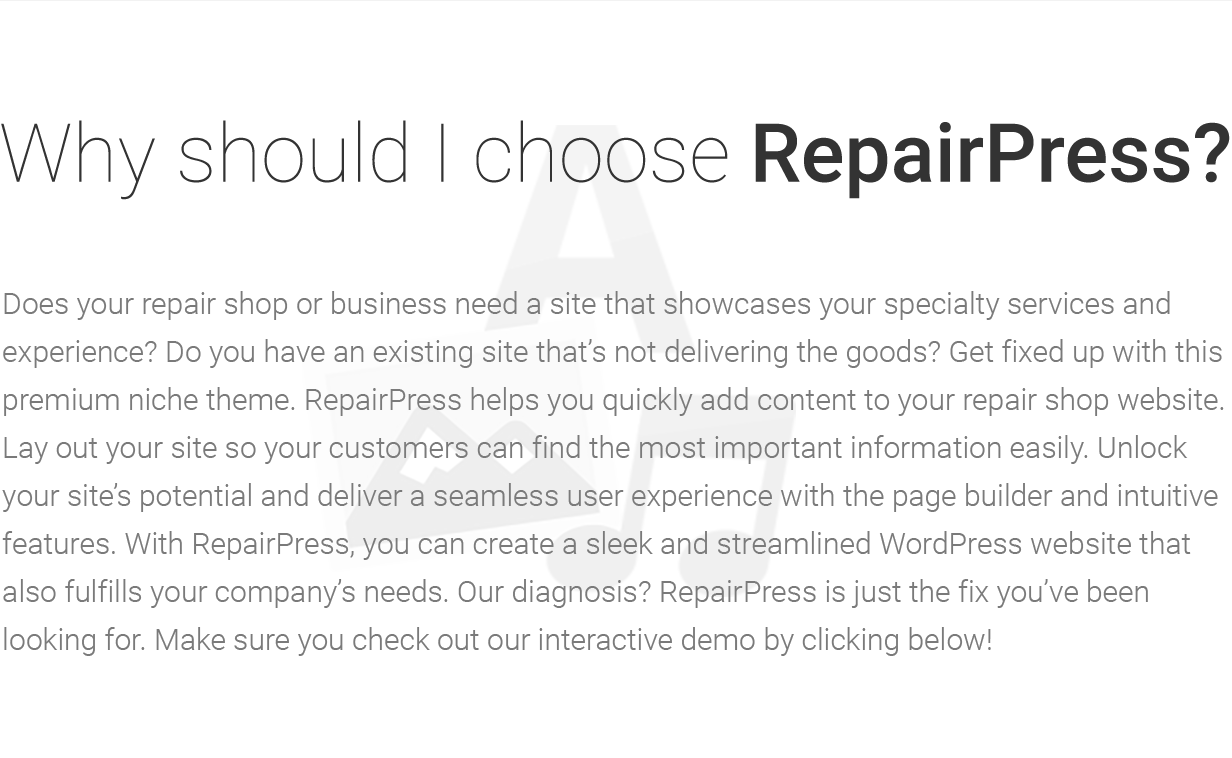 5 stars – great mix of super design and very helpful support. I will be looking out for what this team creates in the future. They really know what they are doing. Well done.

ProteusThemes have great layouts. Their design is on point and their support is always responsive and helpful. I'd definitely buy from them again.

There are a lot of good themes out there, but what we look for is good code supported by good support. Proteus provides both.

The customer support has been brilliant! The design is just perfect and works amazingly. LOVE IT!

The theme is great and only surpass by the customer support ProteusThemes has to offer. I ran into some cumbersome technical issues and customer support worked with me until we found a solution… I strongly recommend ProteusThemes.
Proudly created by ProteusThemes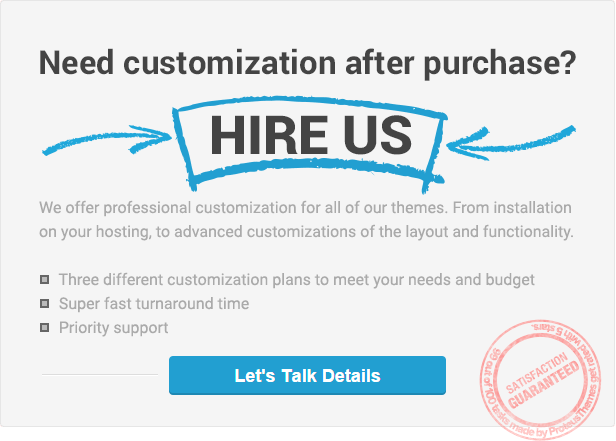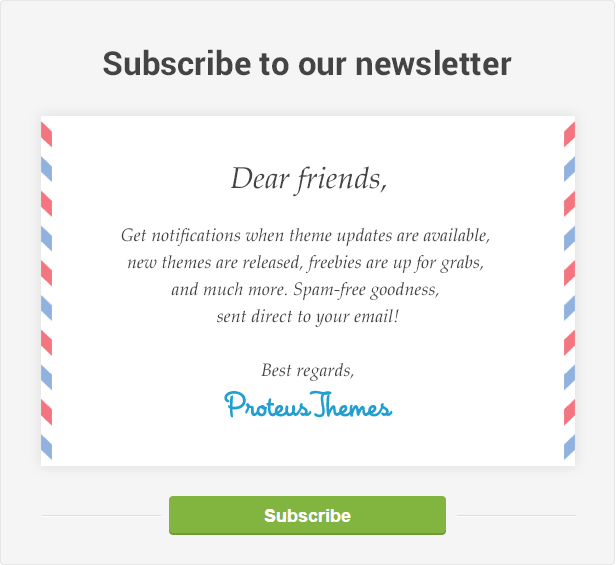 Contact / Support
We're here to help, whenever you need it! Our first-class support team is ready to answer your questions – so please get in touch with us via ProteusThemes Support if you have any suggestions or need help with any of our themes.
Want to use the images featured in the RepairPress demo content?
The images shown in the demo page are copyrighted and come blurry with the theme in the demo content. Link to images.
Why is RepairPress the best repair shop WordPress theme?
We researched your industry, so we know exactly what your business needs in a website
It's fast, easy to use and clean – no annoying animations here! Just smart, simple design
Our code is WordPress industry standard, and our themes are compatible with popular WP plugins for easy integration.
Intuitive Page Builder
With its integrated Page Builder, RepairPress makes it easy to build and rebuild your website. RepairPress' intuitive drag & drop interface makes creating pages a pleasure.
Full compatibility with Visual Composer
Already familiar with Visual Composer? Great! RepairPress fully supports Visual Composer, so you can get straight into building your website with a platform you know and trust.
Real-time WP Customizer & Page Layouts
Change the look and feel of your site with the real-time preview WordPress customizer. See how your website looks before you push the changes live. RepairPress includes many different page layouts that you can change in each page's editing screen (eg. front page layout, Contact page, Services page, About page, a shop, and more!).
One-Click Demo Installer
Import demonstration content with one click to get your theme up and running. This content will guide you through creating your website, so you can easily add the right content in the right places.
Sidebars and widgets
Create your own layout with RepairPress' many custom widgets and sidebars.
WooCommerce compatible
Need an online shop? WooCommerce is fully integrated with the RepairPress theme, so you can quickly build your shop and start selling right away.
Supports popular WordPress plugins
RepairPress supports most popular WordPress plugins by default, including Contact Form 7, Custom Sidebars, Advanced Custom Fields, Yoast SEO, WP Rocket, Simple Lightbox and WooCommerce.
Responsive & retina-ready
RepairPress will look beautiful and professional on any device, from mobile to desktop and beyond. Our responsive design fits to any screen, and clean code means it loads fast too – especially on mobile.
Solid foundations
Compatibility and code quality are as important as the visual appearance of the theme. Coded by WordPress Standards, RepairPress is developer-friendly and easy to customize to add extra features.
Future-proofed and reliable
The RepairPress theme will become the heart of your unique repair shop or business. With RepairPress your site will run well and look great – both today, and in the future.
WPML compatible and RTL supported
The WordPress multilingual plugin can be configured for RepairPress in minutes. All of our themes are 100% translation-ready
RepairPress also supports right-to-left text direction. It will be activated automatically when RepairPress detects that you installed WordPress in RTL language
Why should I choose RepairPress?
Does your repair shop or business need a site that showcases your specialty services and experience? Do you have an existing site that's not delivering the goods? Get fixed up with this premium niche theme. RepairPress helps you quickly add content to your repair shop website. Lay out your site so your customers can find the most important information easily. Unlock your site's potential and deliver a seamless user experience with the page builder and intuitive features. With RepairPress, you can create a sleek and streamlined WordPress website that also fulfills your company's needs. Our diagnosis? RepairPress is just the fix you've been looking for. Make sure you check out our interactive demo by clicking below!
Changelog
 v1.1.0 (2015-10-29) + added: sticky menu @ improved: google maps js enqueued only when needed @ improved: check for minimal PHP requirement: 5.3.2  Files: A    assets/js/StickyNavbar.js M    assets/js/main.js M    assets/sass/components/_header.scss M    composer.json M    composer.lock M    functions.php M    header.php M    inc/customizer/class-customize-base.php M    inc/helpers.php 
 v1.0.0 (2015-10-14) first release