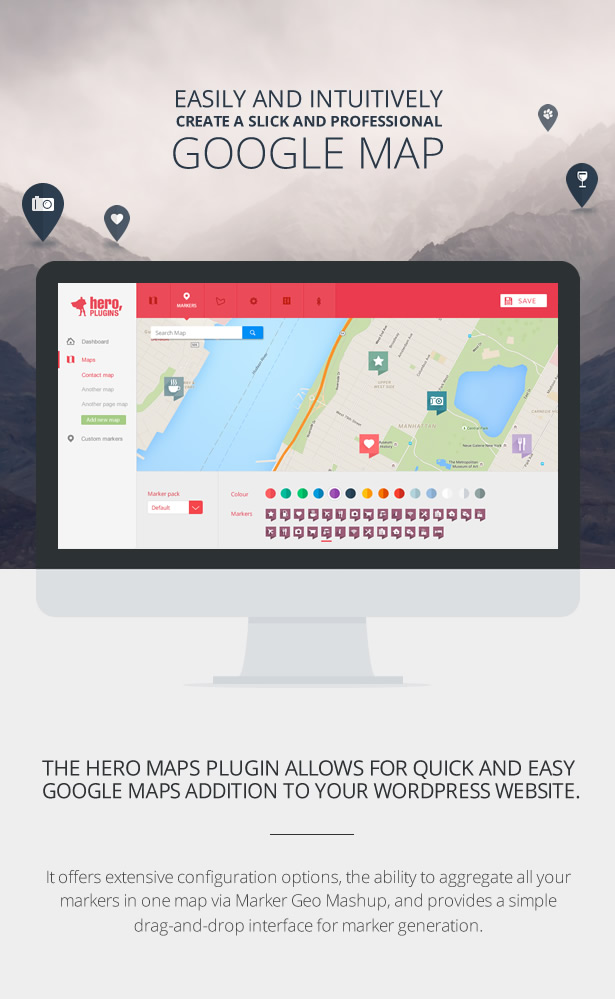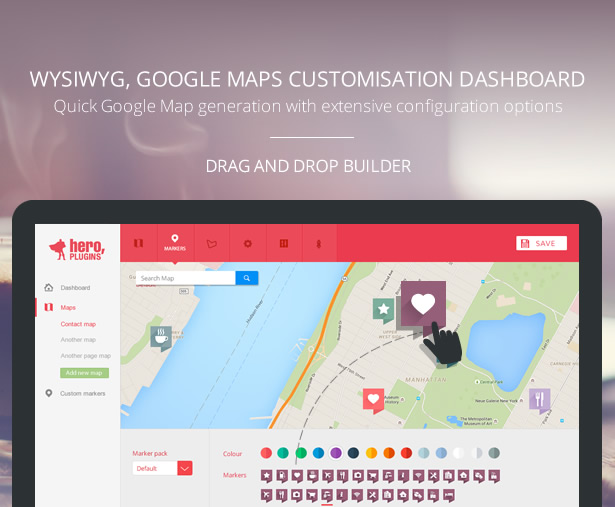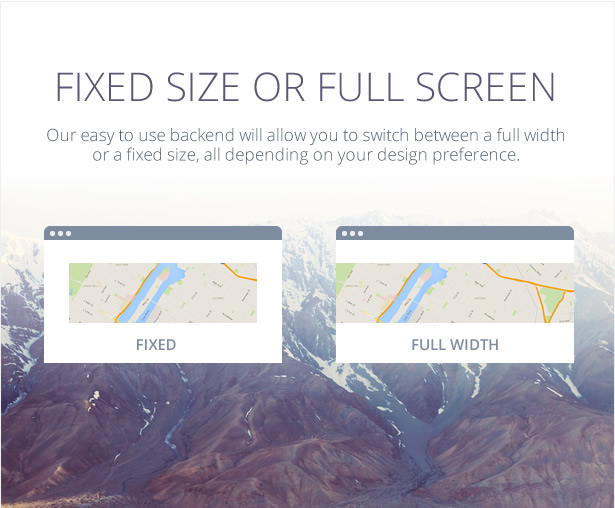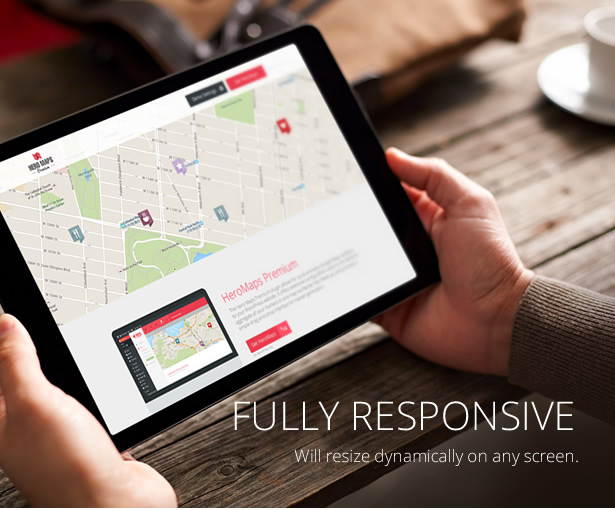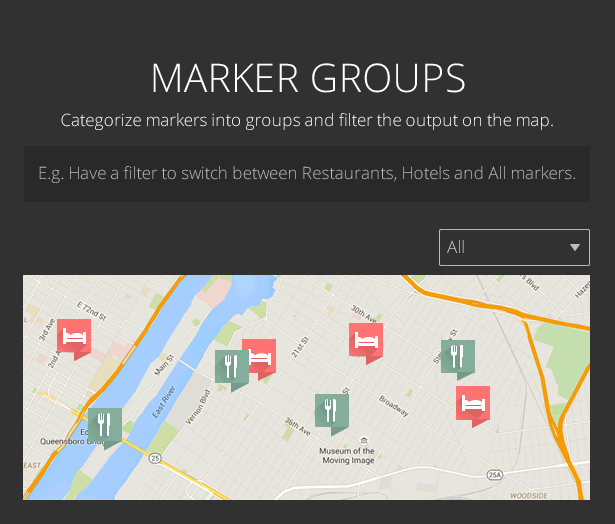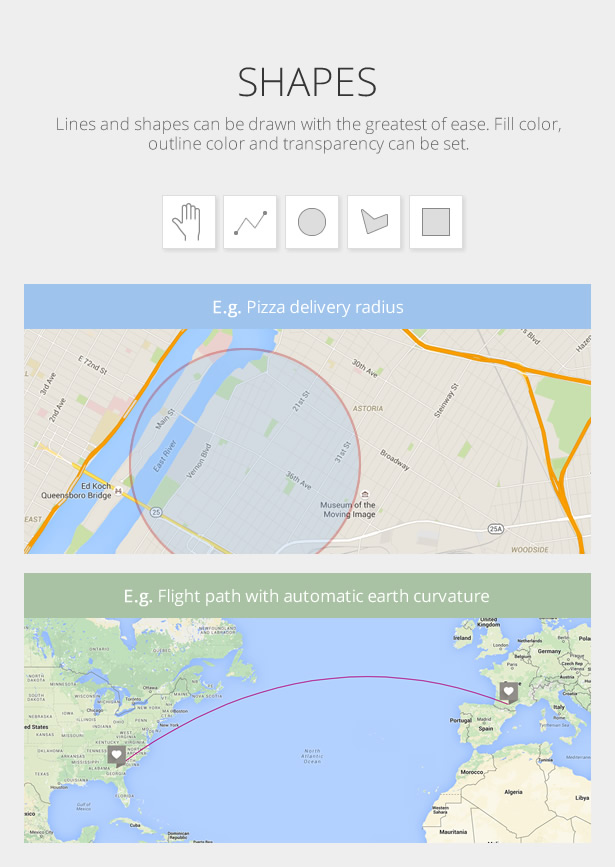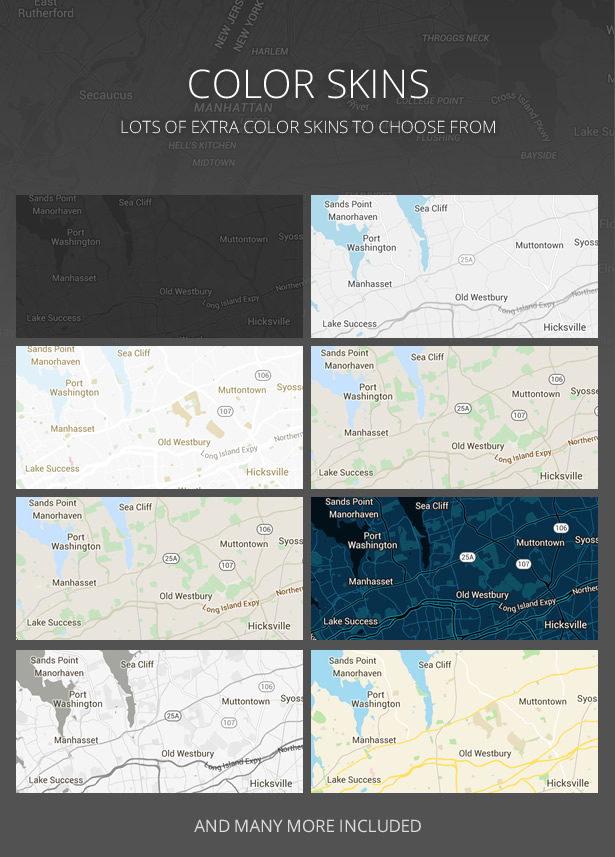 Hero Maps Premium
The Hero Maps Premium plugin allows for quick and easy Google Maps addition to your WordPress website. It offers extensive configuration options, the ability to aggregate all your markers in one map via Marker Geo Mashup, and provides a simple drag-and-drop interface for marker generation.
WYSIWYG, Google Maps customisation dashboard
Drag and Drop builder
Quick Google Map generation with extensive configuration options
Full screen or fixed size
Our easy to use backend will allow you to switch between a full width or a fixed size, all depending on your design preference.
Lots of free markers and colors to choose from
We have included 3 marker packs available in many colors. More marker packs will be available soon.
Use your own markers
Upload and use your own markers if you feel you need more flexibility.
Fully responsive
Will resize dynamically on any screen. We give you the ability to set up fixed size or full width maps and the ability to set it to responsive.
Marker groups
Categorize markers into groups and filter the output on the map.
Shapes
Lines and shapes can be drawn with the greatest of ease on any map.
Fully responsive
Drag and Drop builder
Quick Google Map generation with extensive configuration options
Fully responsive
Works great on pc, tablet and smartphone
Will resize dynamically on any screen.
Markers
Choose between multiple free colors and markers
Design and upload your own markers
Theme customisation
Change and add features that is allowed by the Google API.
Set up multiple maps and multiple markers in a few easy steps.
Fullscreen or fixed size maps
Developers tab
Switch on the developers tab to allow JavaScript Callback events.
Add CSS class from your site
Categories
Group markers in categories
Category filter for frontend
Easily manage categories via a list view
Export Import
Export your map and markers and import into another site.
Map Shapes
Draw shapes on your map and style them.
Shapes include Polyline, Circle, Polygon and Rectangle.
Skins
The default Google skin is standard, but many map skins are included to give you more design flexibility.
Easy to use
Great UX and UI to get up and running in no time
Customize colors, fonts, animation, layout, look and so much more
Cross browser compatible
Works on all browsers.IE9 and up
Multiple maps
Set up multiple maps and multiple markers in a few easy steps
Use mutiple maps per page
Shortcode can be used to add a map to your website
Animation
Marker drop delay
Marker animation
Marker animation timer
Map load zoom
Marker click zoom