Quick Shopping is a WooCommerce Plugin which will improve the Shopping Experience for the Buyer. Using this Plugin, the Cart, Checkout Form and Payment Options can be displayed in the same page(Shop/Category/Product Page) when the buyer clicks the Add to Cart button and the buyer can complete the purchase in the same page without leaving that page. This enhances the shopping experience for the buyer thereby helping in improving conversions and preventing the buyer from abandoning the purchase.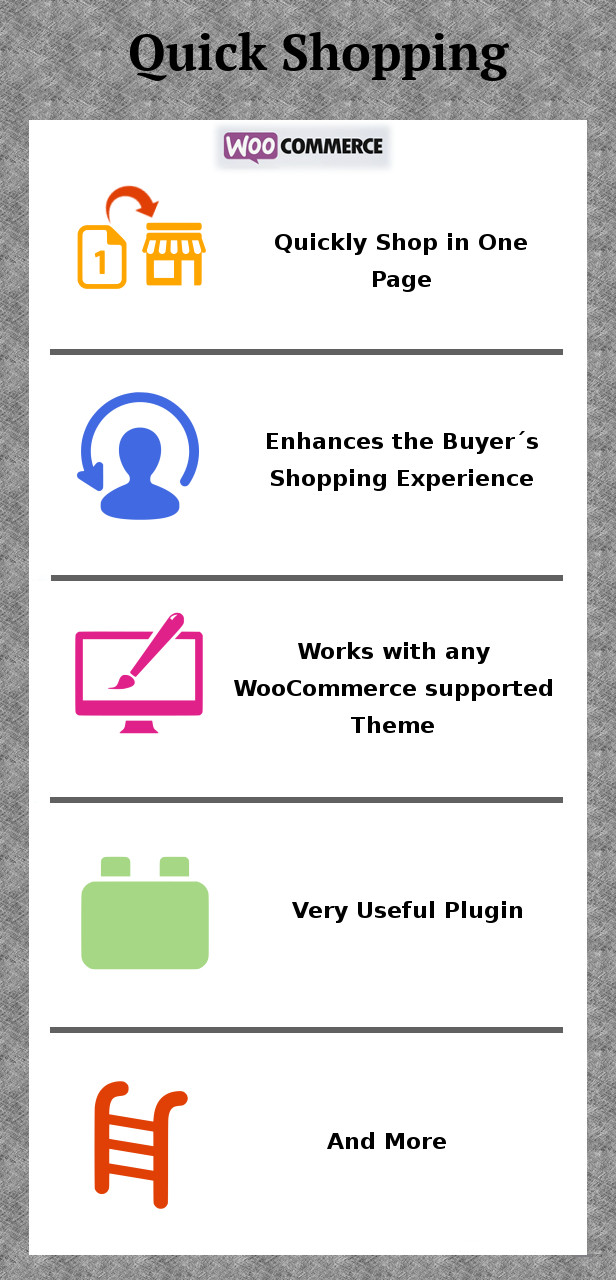 How Quick Shopping Works

Features
How to Upgrade to a newer version of Quick Shopping?
If you are using an older version and want to upgrade to the latest version of Quick Shopping then please do the following steps.
1. Deactivate and Delete the existing version of Quick Shopping in your site.
2. Download the latest version file (quickshopping.zip) of Quick Shopping from Codecanyon.
3. Unzip quickshopping.zip inside which you will find the Plugins files i.e. quickshopping.zip.
4. Install the latest version of Quick Shopping i.e. quickshopping.zip using WordPress Dashboard.
5. Activate the Plugin.
Please note you will not lose any settings values, data etc by following the above steps.
Support
Please check the documentation as we have lots of information there. The documentation file can be found inside the documentation folder which you will find when you unzip the downloaded zip file.
For support, feature request or any help, please register and open a support ticket on our site.
Updates
 Version 1.0 on 17 May 2016 - Initial Release