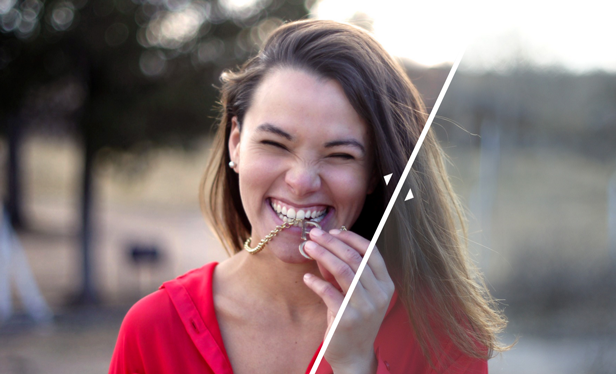 The Best Way to Add before / after Image Slider to Your Site
Create an awesome slider over to showcase your before & after photos with this easy to use element shortcode.
Trigger the before / after slider on mouse hover, click & drag or via a scroll bar. You can also add arrows or a colored split border.
The plugin is hardware accelerated and responsive, and it will adjust depending on your screen size. What's more awesome is that it works blazing fast in mobile devices and becomes a touch and drag slider.
This plugin is perfect for showcasing:
Make up or make over before & after photos,
Before & after shots of landmarks and places,
Photography or design before & after screenshots,
Website before & after redesigns,
And many more.
The most unique thing is that this slider isn't your typical vertical only or horizontal only before/after slider. We support angular / diagonal splits, a first in before / after sliders.
How to Use the Element
Just create a Before and After element:

Then in the settings, add a before photo and an after photo: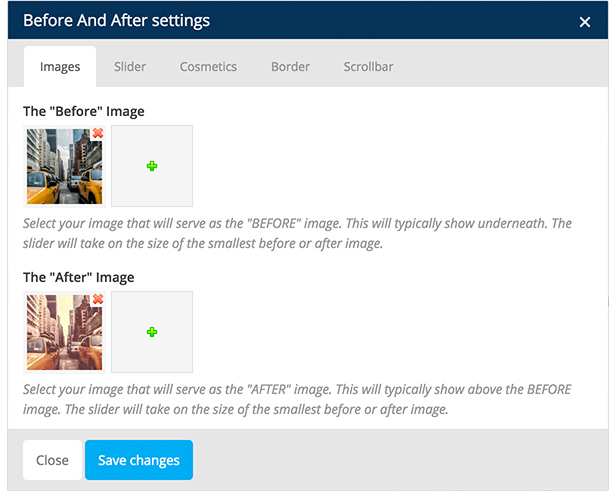 That's basically it. You can further change the settings to add a border, arrows and a scrollbar to your before/after slider.
When checking out the before/after slider in touch devices, it's automatically responsive and touch enabled. Best of all, the performance is fast in both iOS and Android devices.
Awesome Features
Original vs new image comparisons,
Horizontal or Vertical splits,
Diagonal splits – a first in the industry,
Hardware accelerated speeds,
Responsive & touch enabled,
Customizeable border & arrow colors,
Scrollbars are available in the settings,
Easy to use shortcode,
Visual Composer Element included,
Well documented, and
Lightweight,
Cleanly coded in WordPress standards

To ThemeForest WP Theme Developers
You can just include this item as a plugin which your customer can install and active along with your theme.
If you want to include this item in your ThemeForest WordPress theme, please purchase an extended license and send me a message through my profile page.
Live WordPress sandboxes are provided by the awesome WP Demo
Having Trouble with the Plugin?
Head over to the support tab and check out the FAQs, or submit a support ticket!
Enjoying the Plugin?
Be sure to leave a rating and review and show us some love.
Check out Our Other Stuff








Updates
Version 1.0
* Initial release